Nostress Media internet Ltd
Un incendie massif a éclaté dans un dépôt pétrolier en Crimée après avoir été touché par deux des drones ukrainiens, a rapporté samedi un responsable nommé par la Russie, la dernière d'une série d'attaques sur la péninsule annexée alors que la Russie se prépare à une contre-offensive ukrainienne attendue.
Mikhail Razvozhayev, le gouverneur installé à Moscou de Sébastopol, une ville portuaire de Crimée, a publié des vidéos et des photos de l'incendie sur sa chaîne Telegram.
Razvozhayev a déclaré que l'incendie du port de la ville s'est vu attribuer le classement le plus élevé en termes de complexité à éteindre. Cependant, il a signalé que l'incendie à ciel ouvert avait été maîtrisé.
Razvozhayev a déclaré que le dépôt pétrolier avait été attaqué par « deux drones ennemis » et que quatre réservoirs de pétrole avaient été incendiés. Un troisième drone a été abattu du ciel et un autre a été désactivé par des moyens radioélectroniques, selon le gouverneur de Crimée nommé à Moscou, Sergei Aksyonov.
Russia annexed Crimea from Ukraine in 2014, a move that most of the world considered illegal. Ukrainian President Volodymyr Zelenskyy said in an interview this week that his country will seek to reclaim the peninsula in the upcoming counteroffensive.
Russian President Vladimir Putin traveled to Crimea last month to mark the ninth anniversary of the Black Sea peninsula's annexation from Ukraine. Putin's visit took place the day after the International Criminal Court issued an arrest warrant for the Russian leader accusing him of war crimes.
The attack reported in Sevastopol comes a day after Russia fired more than 20 cruise missiles and two drones at Ukraine, killing at least 23 people. Almost all of the victims died when two missiles slammed into an apartment building in the city of Uman, located in central Ukraine.
Six children were among the dead, Ukrainian Interior Minister Ihor Klymenko said Saturday, adding that 22 of the 23 bodies recovered have been identified. Two women remained missing, Klymenko said.
Russian forces launched more drones at Ukraine overnight. Ukraine's Air Force Command said two Iranian-made self-exploding Shahed drones were intercepted, and a reconnaissance drone was shot down on Saturday morning.
Razvozhayev said the oil depot fire did not cause any casualties and would not hinder fuel supplies in Sevastopol. The city has been subject to regular attack attempts with drones, especially in recent weeks.
Earlier this week, Razvozhayev reported that the Russian military destroyed a Ukrainian sea drone that attempted to attack the harbor and another one blew up, shattering windows in several apartment buildings, but not inflicting any other damage.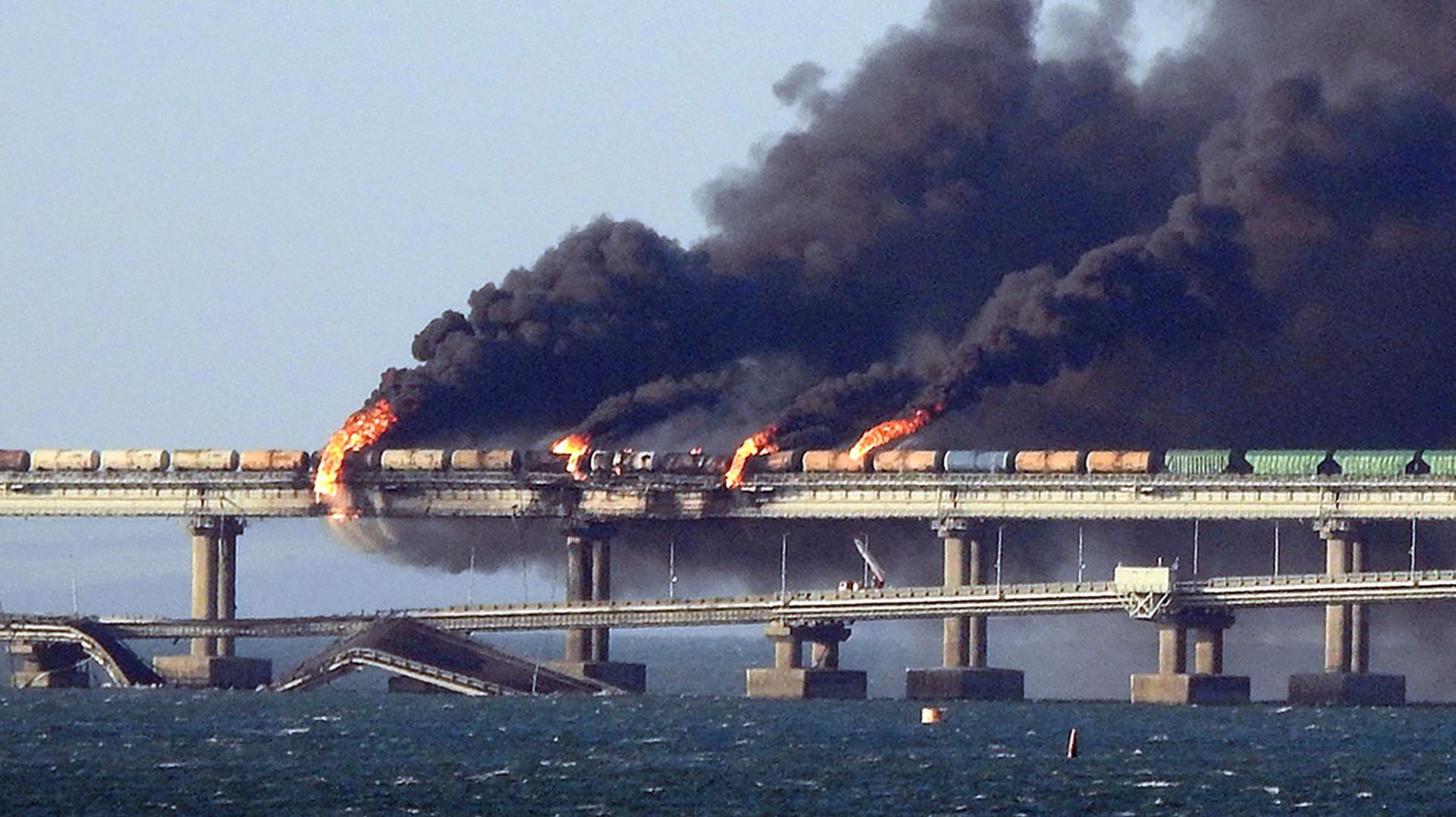 Ukraine's military intelligence spokesperson, Andriy Yusov, told the RBC Ukraine news site on Saturday that the oil depot fire was "God's punishment" for "the murdered civilians in Uman, including five children."
He said that more than 10 tanks containing oil products for Russia's Black Sea Fleet were destroyed in Sevastopol, but stopped short of acknowledging Ukraine's responsibility for a drone attack. The difference between the number of tanks Yusov and Razvozhayev gave could not be immediately reconciled.
After previous attacks on Crimea, Kyiv also wouldn't openly claim responsibility, but emphasized that the country had the right to strike any target in response to Russian aggression.
Elsewhere, Ukrainian forces shelled the city of Nova Kakhovka, according to Moscow-installed authorities in the Russian-occupied part of southern Ukraine's Kherson province. "Severe artillery fire" cut off power in the city, the officials said.
The Ukrainian-controlled part of the province also came under fire on Saturday. Russian shelling in the area of the village of Bilozerka killed one person and wounded another, according to the Kherson prosecutor's office.
Source: www.cnbc.com